We hear and read so much about the current seller's market that we have the impression that we can list and sell our homes "as is" and get top dollar. For the most part, this is just not true. Kitchens sell homes. Even homebuyers whose best culinary skill is microwaving Ramen noodles notice kitchens when home shopping. As a real estate team (and a
Top 10 Team in North Atlanta
– shameless plug!), we encourage sellers to update kitchen finishes and to stage it properly, showcasing its best features. A whole renovation is not necessary (read more about this in a previous
blog
). Simple updates can transform your kitchen, keeping it from sitting on the market for days and maximizing your resale value. Read on for 10 ways to get your kitchen ready for resale.
Add a Little Softness
Consider using Roman blinds. Big voluminous window coverings are OUT. Think minimal, no busy fabric patterns. A clean finished window profile without dangling cords is best. Another idea is cushioned bar stools. Again, clean lines and simple patterns. Avoid ruffles and bows and fussy details.
Get the Wood Look
Buyers love this. If your kitchen flooring is worn, faded, and scratched then this can kill the deal instantly. It doesn't mean you have to install real hardwoods in your kitchen. There are less expensive options that have the wood look. Luxury vinyl plank flooring and porcelain tile are easier on the budget and DIY friendly if you are handy.
Paint Your Cabinets
When stepping into your kitchen, the cabinets are the first thing a buyer will notice. A simple coat of paint can modernize your kitchen on a budget. Doing this yourself (tons of tutorials are available online and on You Tube) is definitively going to be easy on your wallet. However, if you are intimidated by this project, get some referrals on paint professionals (we can help with this). Hiring a professional at a cost of several hundred dollars to a couple thousand is still cheaper than new cabinets.
As far as color, choose a neutral palette that keeps your kitchen light, bright and airy. White has a broad appeal to homebuyers and stands the test of time.
Switch Out the Hardware and Faucet
This is where you can add personality and style. There are so many cabinet hardware options out there! New drawer pulls and door handles can give your cabinets an entirely new look and feel at an affordable price.
Replacing the faucet depends on your kitchen's style. For a streamlined look, match the faucet to your new cabinet hardware. Oil-rubbed bronze, matte black, nickel, stainless steel, and chrome are all popular choices.
Replace the Countertops
Sellers often cringe at this suggestion, worrying about cost, but buyers want a durable worktop. Butcher block is an affordable option that is a quick and stylish fix and blends very well with the current farmhouse trend. Granite and quartz are two popular choices with quartz being HOT right now and is a standout feature when selling. In fact, there is the thought that quartz instead of granite is the new standard in countertops.
Update the Backsplash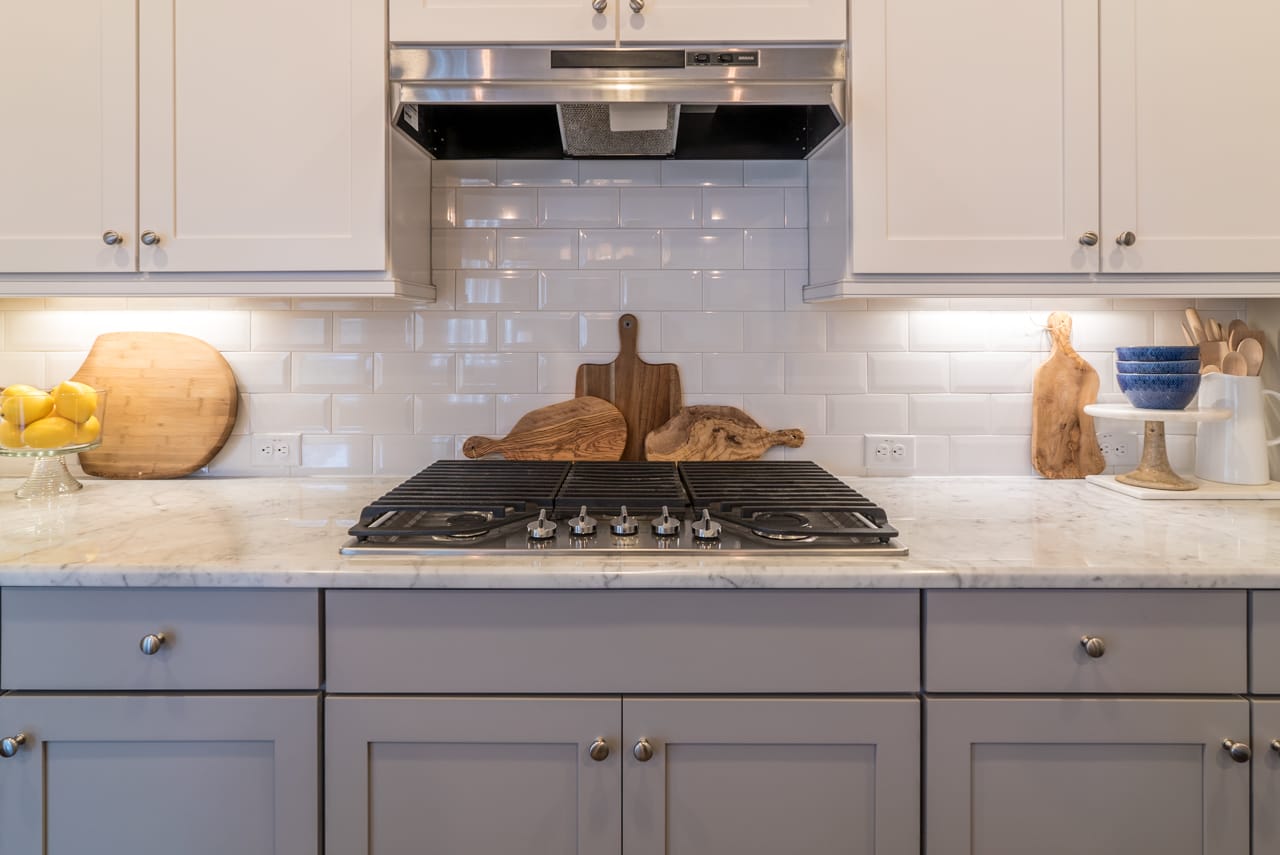 Typically, you won't need a huge amount of tile, so this is where you can splurge. Use a glass mosaic or a quality stone like marble or travertine or a creative blend of both glass and tile. Subway tile is still very popular and loved by homebuyers. The backsplash is an eye-catching feature for homebuyers, and you want to make a statement. Glass tile can get expensive and to maximize your return on the investment stick to the lower end of the price point for glass tile.
Give Your Walls Some TLC
The kitchen tends to be the gathering place of the home and as such the walls get more wear and tear. Also, the wall paint absorbs cooking smells and becomes dingy from grease and smoke. Survey their condition, check for dents and holes patching up areas before painting.
If you decide a new paint job is needed, consider lighter, more neutral colors. An open, expansive look is your goal.
Change or Improve the Lighting
Better lighting doesn't have to cost an arm and a leg, nor do you have to tear up your kitchen! Upgrading to pendant lighting, undercabinet lighting, recessed lighting, dimmers, and better bulbs can make all the difference in the world at an affordable price. If your lights are dated and dull, then research today's trends. Home improvement stores have come a long way and offer modern light fixtures that will appeal to homebuyers and keep your costs down.
Stage and Accessorize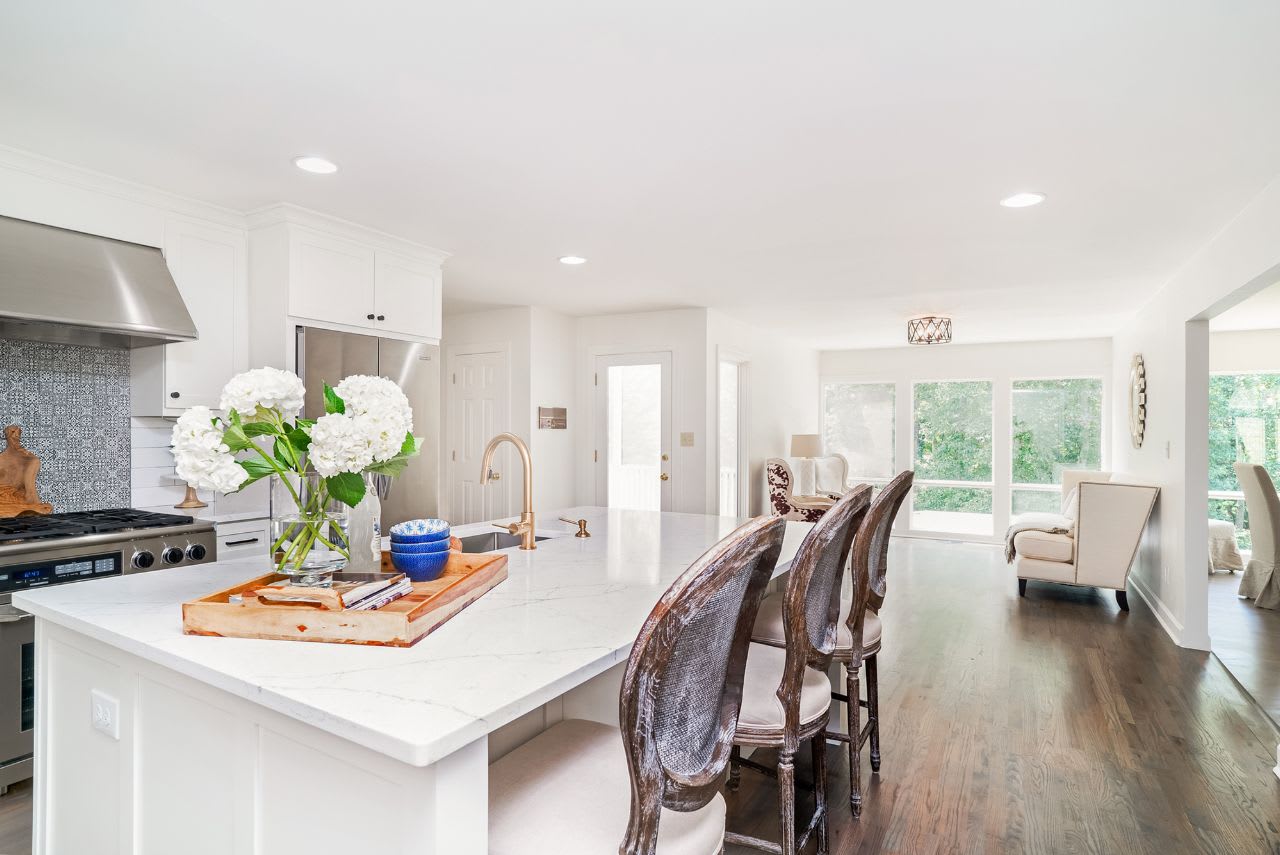 Having a warm and inviting kitchen makes buyers happy. Use fresh fruit, pretty cookbooks, and colorful bowls to add color and life. Fresh flowers (no silk) make the space feel more lived in and is always a good touch! If staging seems like a daunting task as you prep your kitchen for resale, Sherry & Co Real Estate will provide this service to you. We work with professional home-stager, Laurie Wiesenberg. You can find examples of Laurie's work on
Instagram @ Laurie Kay Designs
and on
Facebook @Laurie Kay Designs
.
Clean It Up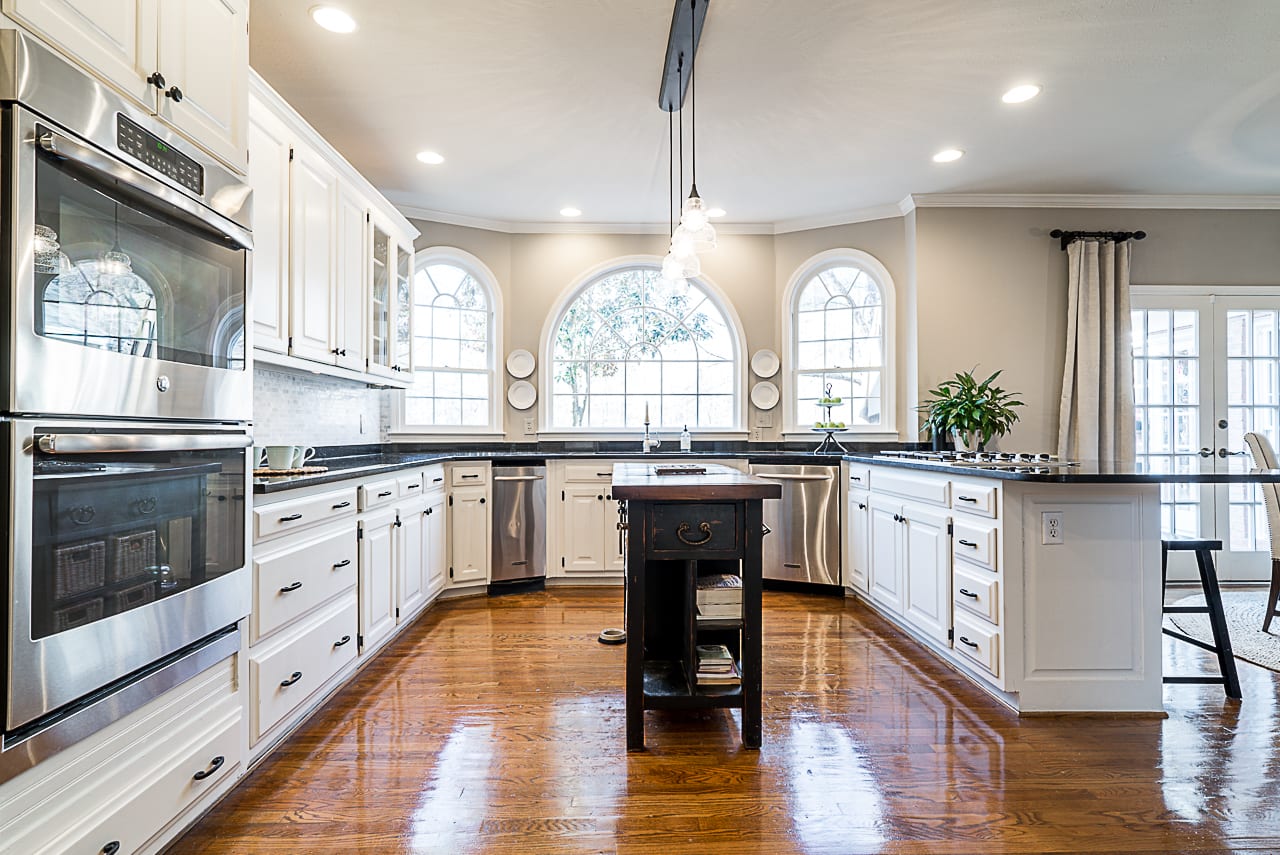 Degrease, declutter, and organize. Remove all the magnets, notes, and art off the fridge, polish up your stainless steel and countertops. Get rid of knickknacks and get organized, especially the pantry. Our
Pinterest board

,

Organizational Ideas
, has some ingenious ideas to get you started.
Remodeling a kitchen can be costly, but updating key details can pack a lot of punch when selling. Whatever your budget is, a few hundred dollars or a few thousand dollars, the team at Sherry & Co Real Estate can help you determine what projects to tackle to get your home market ready. Are you considering entering the real estate market but feel a little overwhelmed about the process, call The Top 10 Team in North Atlanta (678.744.8206) or find us
here
. We are here to help!