You've moved into your new home and you are ready to put your personal design style in motion, but funds are tight or perhaps you've lived in your home for years and it is tired looking. However, that college tuition is hitting your checkbook hard. As we all know, decorating a new home or updating an existing home can be a cumbersome and expensive process but it doesn't have to be. There are creative and strategic ways to creating luxury while on a budget. With a few simple changes, you can transform your newly purchased home or your 20-year-old home into a sanctuary.
Start with the Sofa
Add patterns, texture and color to your sofa with pillows and a throw. Even the most basic sofa can get an expensive and luxurious look with this instant makeover and stay within your budget. There are so many pretty pillows available at budget-conscious stores (think Target and Home Goods) and online. If you are gifted with the talent of being able to sew, there are gorgeous fabrics and trims available and readily affordable. Store coupons make the deal even better. Does the process of mixing and matching patterns and colors stress you out? Check out
Real Simple
for their easy tips and tricks.
Think Minimalism
It is so easy to overdo with accessories. We tend to think that every corner and every surface need that special knick-knack but in reality, less is more. Think minimalism to simplify your space. Get rid of bulky furniture and extra side tables and armchairs. Keep your statement pieces for which you actually have the space. Once you have rid yourself of unnecessary furniture, tackle the accessories. Do you really need that stack of decorating magazines on your coffee table, the doll collection? Instead, hang a colorful print or picture on a wall, group a few brightly colored bottles on the mantle, or add a glass bowl of fruit to a table.
Studies show that having too much clutter can cause feelings of depression. Having too much stuff is overwhelming when there's no place to put it all. Install floating shelves, which don't take up valuable floor space, but look chic, and can keep you neat and tidy. If you find that you still don't have room for everything, then it's time to purge, purge, purge. Needing a nudge? Check out the
Konmari
method for inspiration and motivation.
Get New Light Fixtures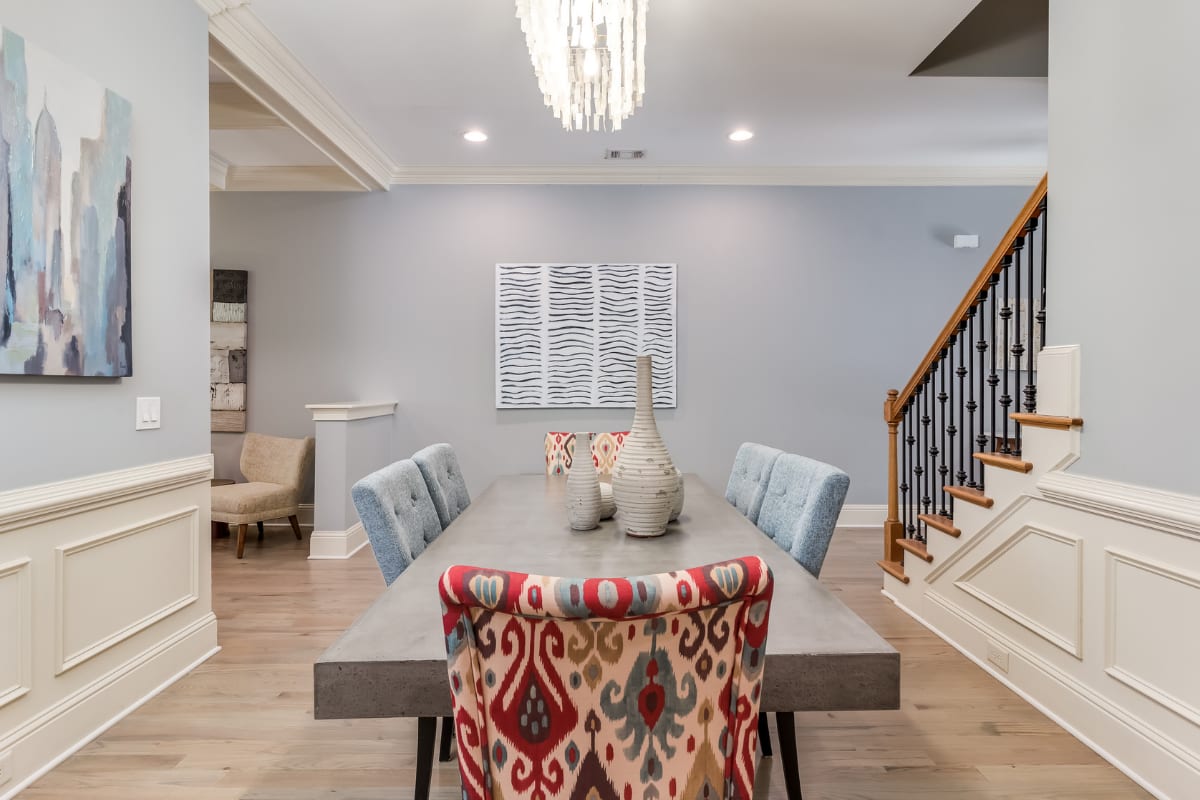 Light fixtures can completely transform the mood of a room and the installation of dimmers is an inexpensive way to control that mood. Avoid harsh fluorescent lights, instead go for soft light, which is more flattering and luxurious. Replacing light bulbs with the new LEDs will brighten up dark corners and crevices and is definitely a budget fix. Replace your light fixtures entirely or update them with some creativity. Pinterest has a plethora of DIY ideas for updating light fixtures. Large overhead lights for the living and dining rooms are a great way to bring these living spaces up to the next level of luxury. A chandelier in a bathroom or nursery adds a touch of style as well as practical functionality.
Mirror, Mirror on the Wall
A mirror in a hallway, entryway, stairway, or dining room makes for a chic look and gives the illusion of spaciousness. Online décor sites offer all kinds of mirror options at every price point. Second-hand stores always have mirrors available. Paint the frame and replace the glass if necessary and you've got a new luxury statement piece for not much money!
Makeover your Windows
Gone are the days of heavy, fussy, floral draperies. Again, think minimal but with a focus on luxury. Eliminating heavy draperies entirely will add light and openness to your living areas. If you love draperies or the room seems cold and sterile without them, draperies made of linen or linen blend fabrics, cotton, silk or sheers will do the trick. Also, hang them high, as close to the ceiling as possible and make sure they skim the floor. Bamboo shades are a nice option, too, as they provide texture, can be adjusted for the light, and are neat and non-fussy. Whatever your preference, think simple and less ornate.
Remember Your Floor
Ground your furniture and your room with a statement-making rug. A rug is the foundation that just pulls a room together. Besides defining a space, a rug adds warmth, pattern/texture, and color. The larger the rug and the more of your furniture you can arrange on it then the more custom and luxurious it will appear. Layering rugs is a great technique for adding a dramatic effect and comfort.
And Finally . . .
Creating luxury while on a budget isn't difficult. You don't have to do every room at once. It doesn't mean shopping at high-end stores or consulting a designer. Start with your foyer and work your way into the interior of your home, one room at a time. Stick to your budget. A $100 statement piece can make all the difference in the world. A
previous blog
by one of our agents, Stephanie Percynski, has an extensive list of retail and online shops for budget buys.
Be creative. Search for inspiration on
Pinterest
and learn a new DIY skill through online video tutorials. You can widen your skill-set by watching these tutorials and learn to create luxury goods for your home for next to nothing compared to buying ready made.
Buy as high a quality as your budget will allow.
Remember to keep it simple; less is more.
Whether you plan to move or have just moved, adding key luxury pieces will present your home in its best light, add style, and bring you joy when you step inside!