February is here and that means LOVE is in the air . . .
The month of Love is here and off to a fantastic start. We want to show you some love by giving you the opportunity to win a $100 Gift Card to Milton's Cuisine & Cocktails. If you haven't been there, now is your chance. If you are already a Milton's fan, then now is your chance to visit again! Known for its fresh, local ingredients and modern Southern food, Milton's Cuisine & Cocktails offers a cozy, warm environment for wining and dining.
To Enter the Giveaway:
This giveaway will begin February 6, 2019 and end at midnight on February 8, 2019.  A winner will be randomly selected using Rafflecopter, and you will be notified by email.  We will also post the name of the winner across our social media platforms.
On Wednesday, February 6, Click on this link to connect to our Facebook Giveaway Page
Once you are on our Facebook, become a fan and click "Like"
Enter your email address & select Enter.  THAT'S IT!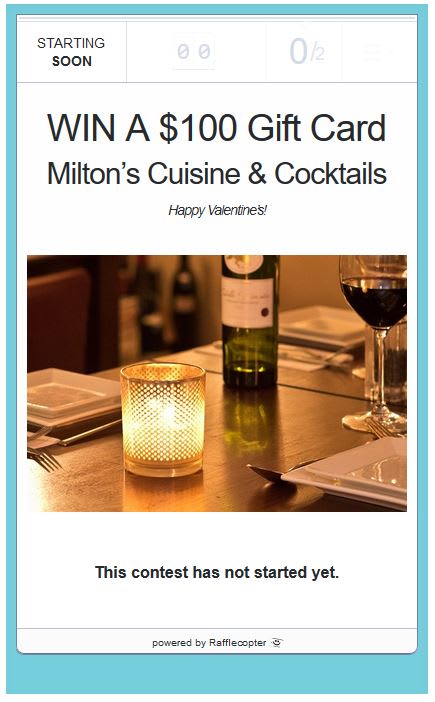 Thank you for taking the time to participate and good luck! You must be a Georgia resident and 21 years of age to enter. No purchase required.